E Article: John Travolta's Gay Drama Continues He Is Sued For Libel By Controversial Gay Bathhouse Author Robert Randolph!!!
Thu., Jun. 21, 2012 6:02 PM PDT by NATALIE FINN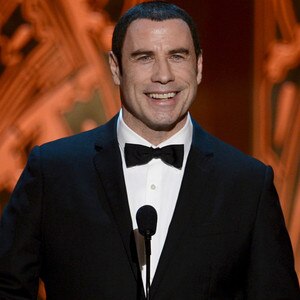 Kevin Winter/Getty Images
The John Travolta legal web just got stickier.
The recently put-upon actor and attorney Marty Singer have been sued by the author of a self-published book about gay bathhouse culture called You'll Never Spa in This Town Again, who is accusing the pair of trade libel following Singer's legal threats on behalf of Travolta when Gawker published an article about the parts of Randolph's book concerning the actor's sex life.
In a statement to E! News, a rep for Travolta called the lawsuit "absurd" and Singer called it "ridiculous."
So, why does plaintiff Robert Randolph believe that the defendants have sullied his reputation?
According to the lawsuit filed yesterday in Los Angeles Superior Court, Gawker published an article in November 2010 about Randolph's book, entitled "The Secret Sex Life of John Travolta," which detailed alleged encounters between himself and various celebrities, including Travolta.
Singer threatened legal action against Gawker Media, sending a cease-and-desist letter listing multiple reasons why Randolph couldn't be believed—among them that he had, according to several people, spent time in mental institutions; his memory was distorted after a 2003 attack at a spa that left him brain damaged; and he returned to the spa where the violent attack at the hands of a fellow patron allegedly took place, only to be attacked again.
Gawker, in turn, posted the entire letter online.
"This letter exceeded the scope of any pre-litigation communications," Randolph's lawsuit contends.
Arguing that his memory is "fully operational," the plaintiff states that Singer and Travolta acted with the intent of preventing Randolph's book from selling and any other lucrative deals that could have arisen from the book's success.
Randolph is asking for unspecified damages for trade libel, intentional interference with prospective economic advantage and negligent interference with prospective economic advantage.
In addition to calling the lawsuit absurd, Travolta's rep predicted that a judge will promptly throw it out.
MORE: Should John Travolta Be Worried With Gloria Allred on the Case?
Singer, meanwhile, tells E! News: "This is a ridiculous lawsuit. It is based on our letter which was completely privileged under the law. We intend to sue the attorneys for malicious prosecution after the court promptly dismisses this baseless lawsuit."
Most recently, Singer vehemently defended Travolta when he was sued by two masseurs who alleged sexual battery. Both have since dropped their lawsuits and are being represented by Gloria Allred, who was in turn sued by their original attorney, who accused Allred of poaching his clients. Allred has denied those claims.