Archive | Sunday , July 24 , 2011
The Master's as the New Bachelor's
By LAURA PAPPANO
Published: July 22, 2011
William Klein's story may sound familiar to his fellow graduates. After earning his bachelor's in history from the College at Brockport, he found himself living in his parents' Buffalo home, working the same $7.25-an-hour waiter job he had in high school.
Multimedia
It wasn't that there weren't other jobs out there. It's that they all seemed to want more education. Even tutoring at a for-profit learning center or leading tours at a historic site required a master's. "It's pretty apparent that with the degree I have right now, there are not too many jobs I would want to commit to," Mr. Klein says.
So this fall, he will sharpen his marketability at Rutgers' new master's program in Jewish studies (think teaching, museums and fund-raising in the Jewish community). Jewish studies may not be the first thing that comes to mind as being the road to career advancement, and Mr. Klein is not sure exactly where the degree will lead him (he'd like to work for the Central Intelligence Agency in the Middle East). But he is sure of this: he needs a master's. Browse professional job listings and it's "bachelor's required, master's preferred."
Call it credential inflation. Once derided as the consolation prize for failing to finish a Ph.D. or just a way to kill time waiting out economic downturns, the master's is now the fastest-growing degree. The number awarded, about 657,000 in 2009, has more than doubled since the 1980s, and the rate of increase has quickened substantially in the last couple of years, says Debra W. Stewart, president of the Council of Graduate Schools. Nearly 2 in 25 people age 25 and over have a master's, about the same proportion that had a bachelor's or higher in 1960.
"Several years ago it became very clear to us that master's education was moving very rapidly to become the entry degree in many professions," Dr. Stewart says. The sheen has come, in part, because the degrees are newly specific and utilitarian. These are not your general master's in policy or administration. Even the M.B.A., observed one business school dean, "is kind of too broad in the current environment." Now, you have the M.S. in supply chain management, and in managing mission-driven organizations. There's an M.S. in skeletal and dental bioarchaeology, and an M.A. in learning and thinking.
The degree of the moment is the professional science master's, or P.S.M., combining job-specific training with business skills. Where only a handful of programs existed a few years ago, there are now 239, with scores in development. Florida's university system, for example, plans 28 by 2013, clustered in areas integral to the state's economy, including simulation (yes, like Disney, but applied to fields like medicine and defense). And there could be many more, says Patricia J. Bishop, vice provost and dean of graduate studies at the University of Central Florida. "Who knows when we'll be done?"
While many new master's are in so-called STEM areas — science, technology, engineering and math — humanities departments, once allergic to applied degrees, are recognizing that not everyone is ivory tower-bound and are drafting credentials for résumé boosting.
"There is a trend toward thinking about professionalizing degrees," acknowledges Carol B. Lynch, director of professional master's programs at the Council of Graduate Schools. "At some point you need to get out of the library and out into the real world. If you are not giving people the skills to do that, we are not doing our job."
This, she says, has led to master's in public history (for work at a historical society or museum), in art (for managing galleries) and in music (for choir directors or the business side of music). Language departments are tweaking master's degrees so graduates, with a portfolio of cultural knowledge and language skills, can land jobs with multinational companies.
So what's going on here? Have jobs, as Dr. Stewart puts it, "skilled up"? Or have we lost the ability to figure things out without a syllabus? Or perhaps all this amped-up degree-getting just represents job market "signaling" — the economist A. Michael Spence's Nobel-worthy notion that degrees are less valuable for what you learn than for broadcasting your go-get-'em qualities.
"There is definitely some devaluing of the college degree going on," says Eric A. Hanushek, an education economist at the Hoover Institution, and that gives the master's extra signaling power. "We are going deeper into the pool of high school graduates for college attendance," making a bachelor's no longer an adequate screening measure of achievement for employers.
Colleges are turning out more graduates than the market can bear, and a master's is essential for job seekers to stand out — that, or a diploma from an elite undergraduate college, says Richard K. Vedder, professor of economics at Ohio University and director of the Center for College Affordability and Productivity.
Not only are we developing "the overeducated American," he says, but the cost is borne by the students getting those degrees. "The beneficiaries are the colleges and the employers," he says. Employers get employees with more training (that they don't pay for), and universities fill seats. In his own department, he says, a master's in financial economics can be a "cash cow" because it draws on existing faculty ("we give them a little extra money to do an overload") and they charge higher tuition than for undergraduate work. "We have incentives to want to do this," he says. He calls the proliferation of master's degrees evidence of "credentialing gone amok." He says, "In 20 years, you'll need a Ph.D. to be a janitor."
Among the new breed of master's, there are indeed ample fields, including construction management and fire science and administration, where job experience used to count more than book learning. Internships built into many of these degrees look suspiciously like old-fashioned on-the-job training.
Walter Stroupe, a retired police first lieutenant and chairman of the department of criminal justice at West Virginia State University, acknowledges that no one needs to get the new master's degree in law enforcement administration the school is offering beginning this fall. In fact, he concedes, you don't even need a college degree in West Virginia to become a police officer, typically the first step to positions as sheriff and police chief.
Still, Dr. Stroupe says, there are tricky issues in police work that deserve deeper discussion. "As a law enforcement officer, you can get tunnel vision and only see things from your perspective," he says. "What does a police officer do when they go up to a car and someone is videotaping them on a cellphone?" The master's experience, he hopes, will wrangle with such questions and "elevate the professionalism" among the police in the state.
These new degrees address a labor problem, adds David King, dean of graduate studies and research at the State University of New York at Oswego, and director of the Professional Science Master's Program, which oversees P.S.M. degrees across the SUNY system.
"There are several million job vacancies in the country right now, but they don't line up with skills," he says. Each P.S.M. degree, he says, is developed with advisers from the very companies where students may someday work. "We are bringing the curriculum to the market, instead of expecting the market to come to us," he says.
That's why John McGloon, who manages the technical writing and "user experience" team at Welch Allyn, the medical device company, helped shape the master's in human-computer interaction at Oswego. He says employers constantly fear hiring someone who lacks proper skills or doesn't mesh. Having input may mean better job candidates. This summer, Mr. McGloon has three SUNY Oswego interns. "We plug them right into the team," he says. "Not only can you gauge their training, you can judge the team fit, which is hard to do in an interview."
While jobs at Welch Allyn may not require a master's, the degree has been used as a sorting mechanism. After posting an opening for a technical writer, Mr. Mc- Gloon received "dozens and dozens" of résumés. Those in charge of hiring wondered where to start. "I said, 'Half of our applicants have master's. That's our first cut.' "
 Laura Georgianna, in charge of employee development at Welch Allyn, confirms that given two otherwise equal résumés, the master's wins. A master's degree "doesn't guarantee that someone will be much more successful," she says. "It says that this person is committed and dedicated to the work and has committed to the deep dive. It gives you further assurance that this is something they have thought about and want."
The exposure to workplaces, and those doing the hiring, makes master's programs appealing to students. "The networking has been unbelievable," says Omar Holguin. His 2009 B.S. in engineering yielded only a job at a concrete mixing company. At the University of Texas, El Paso, which is offering a new master's in construction management, he's interning with a company doing work he's actually interested in, on energy efficiency.
There may be logic in trying to better match higher education to labor needs, but Dr. Vedder is concerned by the shift of graduate work from intellectual pursuit to a skill-based "ticket to a vocation." What's happening to academic reflection? Must knowledge be demonstrable to be valuable?
The questions matter, not just to the world of jobs, but also to the world of ideas. Nancy Sinkoff, chairwoman of the Jewish studies department at Rutgers, says its master's, which starts this fall, will position students for jobs but be about inquiry and deep learning.
"I would imagine in the museum world, I would want to hire someone with content," she says hopefully. "To say, 'I have a master's in Jewish studies,' what better credential to have when you are on the market?"
"This will make you more marketable," she is convinced. "This is how we are selling it."
Whether employers will intuit the value of a master's in Jewish studies is unclear. The history department at the University of South Florida has learned that just because a content-rich syllabus includes applied skills (and internships) doesn't mean students will be hired. "Right now, yes, it's very hard to get a job" with a master's in public history, says Rosalind J. Beiler, chairwoman of the history department, noting that the downturn hurt employers like museums and historical societies.
The university is revamping its master's in public history, a field that interprets academic history for general audiences, to emphasize new-media skills in the hopes of yielding more job placements. "That is precisely the reason we are going in that direction," she says.
"Digital humanities," as this broad movement is called, is leading faculty members to seek fresh ways to make history more accessible and relevant in their teaching and research. A professor of Middle Eastern history, for example, has made podcasts of local Iraqi war veterans in a course on the history of Iraq.
It may be uncomfortable for academia to bend itself to the marketplace, but more institutions are trying.
In what could be a sign of things to come, the German department at the University of Colorado, Boulder, is proposing a Ph.D. aimed at professionals. Candidates, perhaps with an eye toward the European Union, would develop cultural understanding useful in international business and organizations. It would be time-limited to four years — not the current "12-year ticket to oblivion," says John A. Stevenson, dean of the graduate school. And yes, it would include study abroad and internships.
Dr. Stevenson sees a model here that other humanities departments may want to emulate.
It does, however, prompt the question: Will the Ph.D. become the new master's?
Europe's resurgent far right focuses on immigration, multiculturalism
By Tim Lister, CNN
July 25, 2011 — Updated 0208 GMT (1008 HKT)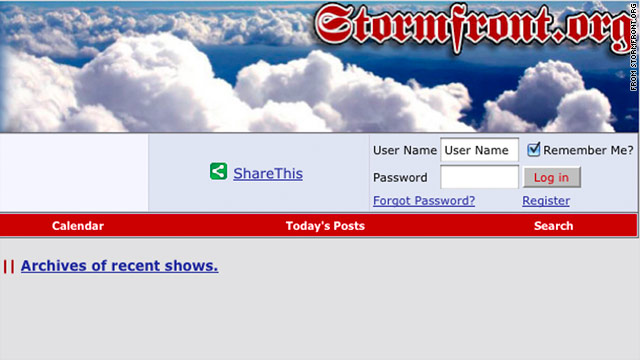 This a screen grab from the website stormfront.org, whose motto is "White Pride Worldwide."
STORY HIGHLIGHTS
Far-right political parties have been gaining ground in Europe
Leaders of the parties were quick to condemn the violence in Norway
Beyond these parties lurks an underground of white supremacists and neo-Facsists
(CNN) – The far right in Europe has enjoyed a renaissance over the past 30 years, driven by resentment of the growing powers of the European Union and by rejection of the "multiculturalism" that has accompanied rapid immigration from the developing world.
Political parties opposing immigration and integration have done well in elections in recent years — and beyond them, neo-fascist and "national socialist" groups have become well-established across the continent, including in Germany, Belgium, the Netherlands, Italy, Scandinavia, Hungary and the United Kingdom.
Most of those belonging to such groups would not contemplate the sort of carnage that occurred in Norway on Friday, but they would probably sympathize with what appears to have been the manifesto of the alleged assailant, Anders Behring Breivik.
Breivik claimed that "cultural Marxism" had morally degraded Europe, and purportedly wrote: "You cannot defeat Islamisation or halt/reverse the Islamic colonization of Western Europe without first removing the political doctrines manifested through multiculturalism/cultural Marxism." Elsewhere he said: "One of the most widespread manifestations of the craziness of our world is multiculturalism."
There are plenty of white supremacists who subscribe to such views on websites like stormfront.org, whose motto is "White Pride Worldwide." On the site's discussion forums, one thread entitled "Scandinavia Struggles Against Multiculturalism" warns that "a united Europe could become a strong wall against Islamic 'cultural' invasion, but instead Europe has become a gateway for Islam." The thread, which has been active for several years, contains reports of alleged rapes by immigrants, warns about the low birth rate of native-born Scandinavians and links to videos of far-right protests.
Another thread is titled: "Please Nordic people, keep white Scandinavia." And the day before Friday's attack, one forum participant wrote: "Norway must wake up and deport non-whites."
In his own writings, the alleged Norwegian bomber appears to have complained about the "Muslim ghettofication process'" in Oslo — a term also used by the far right in Denmark.
Rise of right wing extremism in Europe
Manifesto refers to European civil war
Norway suspect allegedly posts video
Without espousing such apocalyptic views, far-right political parties in Scandinavia have tapped into this anger — and reaped dividends at the ballot box. The far-right Danish People's Party (Dansk Folkerpartis) has 25 seats in parliament; the Sweden Democrats Party won 5.7% of the vote in the 2010 election. In Finland, the True Finns party made a dramatic breakthrough in April's elections, gaining more than 1 in 5 votes.
Beyond Scandinavia, France's National Front won 15% of votes in the first round of regional elections in March 2010, even though it was not on the ballot in the entire country. President Nicolas Sarkozy's party only managed 2% better.
In the Netherlands, Geert Wilders (a politician admired by Breivik in his writings) has successfully stirred up hatred against Islam and the establishment; his Party for Freedom has become the country's third largest, with 24 seats in the Dutch parliament. Wilders has compared the Quran to Hitler's Mein Kampf and has tried to have it banned in the Netherlands.
And in 2009, the British National Party won enough votes to send two members to the European Parliament, a result that profoundly shocked the political establishment in the UK.
Most of these parties and other far-right groups in Europe oppose freedom of movement within the European Union as enshrined in the Schengen Agreement. And that's an issue that's bled into mainstream politics, with the conservative governments in France and Italy embarking on controversial campaigns to deport Roma — or gypsy — communities accused of raising the crime rate.
In May, Denmark reintroduced unilateral border controls to combat illegal immigraion and organized crime, a measure championed by the Danish People's Party.
Issues of open borders and immigration are now very much part of Europe's crisis, which includes doubts over the very future of the financial eurozone. The Scandinavian far-right parties have opposed European financial bail-outs to weaker members like Greece and Portugal — a real threat when such deals must win unanimous approval among the 27 members of the European Union. As the conservative German newspaper Die Welt put it in May: "Neither open borders nor a common currency have led the countries to grow closer with one another. It's just the opposite. They insist on clinging to their national characteristics."
Established far-right politicians — from Wilders to Marine Le Pen, leader of the National Front — have quickly and unequivocally condemned the attack in Norway. Siv Jensen, leader of the far-right Norwegian Progress Party (to which Breivik once belonged) said: "The horrible and cowardly attacks we've witnessed are contrary to the principles and values underpinning the Norwegian society."
But beyond these established parties lurks an underground of white supremacists and neo-Fascists. These groups, which dissolve, mutate and reform with great frequency, typically are comprised of younger men with little education and poor if any job prospects. They see their lives as blighted by an overbearing state, Europe's post war "social democratic model" and the rising tide of immigration from Africa and South Asia. Racist skinhead gangs in Italy, Poland and the United Kingdom have often been organized around "support" for football clubs.
The ideologues among them foresee — much like the alleged Norwegian bomber appears to — an economic apocalypse that will generate armed resistance in Europe. And today, like would-be jihadists, white supremacists and others on the far right can quickly find contacts and reinforcement on a host of websites and online discussion forums.
The use of violence by the far right in Europe is not new, and dates back to the late 1970s. In 1980, a 27-year old German named Gundolf Koehler exploded a bomb at the Oktoberfest in Munich, killing himself and 12 others. Documents were found on Koehler's body linking him to the paramilitary Defense Sport Group (Wehrsportgruppe) led by Karl-Heinz Hoffmann, who saw himself as the "spiritual descendant" of Hitler. Koehler is believed to have acted alone.
In the 1990s, neo-Nazis in Germany, often acting alone, attacked a number of immigrant hostels housing Turkish families. A firebombing in 1993 killed two Turkish women and three children; and in 2000 10 immigrants, most of them Jewish, were injured in a bomb attack in Dusseldorf. Towns like Guben in eastern Germany became notorious for attacks by skinheads on asylum-seekers — Algerians, Africans and Turks.
The German government tried to ban the far-right National Democratic Party in 2003, using a clause in the constitution outlawing neo-Nazi parties. But the Constitutional Court refused to hear the case because the government had inflitrated the party with informants. Insisting it rejected violence, the NPD won 5% of the votes in Saxony's state elections in 2009.
Germany's intelligence service recently estimated there were 25,000 far-right extremists in the country and that the number of far-right crimes in the former communist east had risen by an alarming 40%. Neo-Nazi groups like Sturm 34 remain active in parts of Germany.
Individuals belonging to or sympathizing with far-right groups in Europe have carried out fire bombings or knife attacks against immigrants, gay and Jewish targets, but there is no precedent for an attack of the magnitude that occurred in Norway on Friday — which now appears to have been the result of long, meticulous planning. (Ironically, the alleged bomber appears to have learned from al Qaeda's methodology in planning attacks, and purportedly wrote: "Just like Jihadi warriors are the plum tree of the Ummah, we will be the plum tree for Europe and for Christianity.")
The only previous occasion when carnage in Europe on such a scale has been blamed on the far right came in Bologna, Italy, in 1980, when 85 people were killed in a massive bomb explosion at the city's railway station.
The Nuclei Armati Rivoluzionari, a faction of the far-right group Terza Posizione (Third Position), which had emerged from the ashes of other neo-Fascist groups, claimed responsibility for the attack. At the time, far-right groups in Italy had links with the Italian secret service, which saw them as a tool in the fight against communism. Italy then had the strongest Communist Party in western Europe. A Rome magistrate that had been investigating the group was assassinated weeks before the Bologna bombing.
But Terza Posizione was driven by an ideological struggle peculiar to Italy. Thirty years on, the prevailing tone — online and off — of neo-fascist groups is what they perceive as the Islamization of Europe, and the acceptance of the political establishment of multiculturalism, which may help to explain why the targets in Norway were linked to the ruling Labour Party.
For generations, politics in Europe has been defined in terms of class: the contest between left and right, socialists against conservatives or Christian Democrats. It is still the prevailing divide, but recent election results and the resurgence of far-right groups suggest the issue of identity is beginning to intrude.