Archive | Monday , August 9 , 2010
The big interview
Gareth Thomas on being gay in sport and switching to rugby league
The former Wales captain talks about his new life as a divorced, gay rugby player who recently switched sporting codes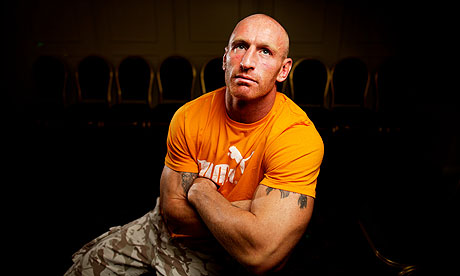 Gareth Thomas has been moved by the support of his Crusaders team-mates since moving there six weeks ago. Photograph: Christopher Thomond for the GuardianIn his new home, a hotel halfway between Chester and Wrexham,
Gareth Thomas
walks up and down the same corridor every day. On his way to and from breakfast and dinner, Thomas is reminded constantly that he now lives in a hotel which specialises in hosting elaborate weddings. The walls leading from the foyer to the restaurant are covered in soft-focus photographs of beaming brides and grinning grooms, their smiles as big as their hairstyles.
It's almost as if, in their wedded bliss, the framed couples are watching Thomas trying to adjust to his strange new life as a divorced, gay rugby player who has just switched from union to league.
Thomas, a former captain of Wales and the Lions who made 103 Test appearances, has become the only high-profile openly gay man in British sport – while playing rugby league for the aptly-named Crusaders.
"My first experience of moving here six weeks ago was funny," the 35-year-old says. "After all the years of thinking, whenever people looked at me, 'Can they guess I'm gay?', it was different when I got here. Everybody knows I'm gay now. Everybody."
Thomas laughs throatily, rubbing the tattoos on his heavily muscled upper arms as if reassuring himself that those changed perceptions, since he came out publicly last December, have been mostly positive. He has made life even more challenging by, at the same time, attempting to master the intricacies of a different code of rugby with a recently formed Super League club. But his sexuality, at least for now, overshadows everything.
"Tell me about it," he chuckles. "I love the Crusader lads to bits. They're brilliant. But for two weeks me being gay wasn't mentioned. That means it's lurking there. Our captain, Ryan O'Hara, is a real good bloke, an Aussie, and we get on great. But we were all standing around the physio room and Ryan said: 'Did anyone hear about Ricky Martin [the singer who came out in March]?' One of the other guys jumped in and said: 'Ah, we've got rugby this afternoon.' It was his way of changing the subject but the whole room went quiet. I got up and walked out because it felt uncomfy."
Thomas shakes his head, looking briefly pained. "Then," he says, brightening, "three days later, we all went out for a beer and Ryan sat me down and said: 'Mate, how are you being gay – and all the boys knowing?' I just shouted: 'Halle-fucking-lujah!'
"The boys looked over and I shouted out to them as well. 'Boys,' I said, 'I so respect the way you've handled this. But it's OK – you can talk about it.' It was such a respect thing they showed me but it's much better now. Since then many of them have sat me down, one to one, and said: 'Mate, we've got so much time for what you've done. It's so brave, so powerful.'
"But I love them taking the piss. We've got another Australian on the wing, Nick Youngquest, and he's a gay icon. He's been on the cover of Attitude but he's comfortable in his [straight] sexuality. It still gives the boys a laugh because they say to me: 'Oooo, he's not so happy now you're taking over.' Me and Nick are good mates and we'll walk in the room together and someone will shout: 'Here come the girls!'"
Thomas laughs again, until he is asked to explain his contrasting feelings when, against Castleford in his second match, he was abused by opposition fans. "I have to break it up into pieces to understand. I hate the word 'pioneer' but there's no escaping the fact I'm the first. So for me to get abuse is, in a weird way, a good thing.
"Afterwards the Rugby League Commission fined Castleford. We went to Bradford the week after and I was told the stewards had been briefed that if there was any abuse aimed at me then they had to eject those fans because they didn't want to be fined. The next [gay] person that follows me will be glad I've opened the door because they're not going to get the same abuse."
There is still a vulnerability to Thomas which he might not have dared reveal when he was regarded as a hard man of Welsh rugby. He looks up ruefully when asked why he chooses to live in a hotel. "I'm un-self-sufficient," he says. "I can't look after myself. I really can't. So here is good for me. I have my meals made. I have my bed made. The girls on reception are lovely. And I like the interaction with people. I don't like being on my own.
"I'm always buying the girls chocolate and flowers – just to be nice. And then I chat with them to see how their day has gone. They like it because, otherwise, they're bored as shit. And then I'll banter with the boys in the restaurant. It means I don't feel lonely."
What about those moments when, alone, he walks down the corridor of wedding photos? Is it not, sometimes, unbearable? "I had that feeling yesterday. That was the feeling that kicked me in the guts."
It takes a moment to realise he is not mocking the cheesy photographs. He is, instead, mourning his wife. "Jemma's in Spain now, and I'm here. I know that has to be the right place for both of us. But not a day goes by when I don't think about her, when I don't miss her. It wasn't right, what I was doing to her, but that doesn't change the fact I really loved her.
"Yesterday I couldn't stop thinking where would I be now, with Jemma, if things had been different. You come to a crossroads and you take one road because it's right for you. But that doesn't stop you wondering where the other road might have led. A lot of people can't understand what me and Jemma had. They think, 'You're gay so how can you love this woman at the same time?' But I wouldn't change it for the world. Jemma said the same. So when people tell me I was wrong to marry her I want to say, 'You don't know how I felt. You don't know how much I loved her. You don't know how much it broke me up to see her heart breaking.'"
His voice is ragged, but Thomas keeps talking. "So many of our friends split up for pathetic reasons. But Jemma and I had to separate because of something huge. We had something that would have gone on forever otherwise. But I had to let her go. I was crying yesterday because I felt all the emotions from when I was having to tell Jemma about me being gay. It brought back the memories of so many bad times but, also, so many good times."
That poignant backdrop has been accentuated by the matching response of Jemma – who has said she is more proud of her ex-husband now than she has ever been. It is a reaction apparently shared by her family. "They've been brilliant," Thomas says. "I got a message from Jemma's dad. He said, 'I've heard about your move into rugby league, mate, and I'm just calling to wish you all the best.' Amazing."
Thomas's own parents have been even more supportive, despite his surprising admission: "I don't think I've ever told them I'm gay. When me and Jemma split they kind of put two and two together. At the time I couldn't really say the word 'gay' because I wasn't ready. Now I know they know and so we haven't had the big dramatic conversation.
"When I announced it publicly I asked them if they wanted to read the article first but dad said, no, it was OK. I went to see them the night it came out and I thought they'd be tired. But mum insisted on opening some champagne. She said it was a celebration of the rest of my life and so there I sat, drinking champagne with them, thinking how daft I'd been to worry for so many years about them finding out."
His fears were understandable. "My old man works in the postal service, my mum in a hospital and my brother in a factory. They're my family and when I play rugby I'm representing them. But coming out was different. More than anyone, I feared for my father. I used to be a postman myself and so I know that working environment. It's a macho world and I was worried about him going into work and hearing bad things about me. But I think he's 10 times prouder of me now than six months ago."
Thomas looks up, eyes gleaming, when I ask if his mother is a Crusaders fan? "She's a big Alfie fan, mate," he says, alluding to his nickname. "She's the same as any mum. Mind you, they've just signed up to Sky so they can watch me."
This Sunday they will be able to watch their beloved Alfie playing for the Crusaders in the Challenge Cup against the Catalans Dragons on the BBC. "If we win it," he enthuses, "we'll be in the quarters and two matches away from Wembley."
Thomas, who had his best game for Crusaders last Saturday, during a 19-0 demolition of Bradford, is clearly improving and adapting to the sheer physicality of league. "I recently made 17 carries in one game. I felt it the next morning because, as a wing in union, you make 17 carries in a season. But I love it."
He might still be a raw league novice, after only six weeks in the game, but time is closing in fast on Thomas's tumultuous sporting career. "It's scary, and I'll miss the dressing room most of all. If you could bottle that special feeling you sometimes get in a dressing room just before a match, you'd be a billionaire. But I'm working on this company we've set up called Distinct Management – it will help sportsmen and creative people by looking after their business and practical needs while they focus on their careers. I'm excited about that."
It's raining again outside, and Thomas scrunches up his face when asked if he is feeling better than he had done the previous day. "Mate, the richest man in the world has his down days. The most famous man in the world has his down days. It's life. But, for me, the rainy moments are isolated moments. I'm always at least half-full. And the rest of the time I'm smiling – all the way up to the brim."