Archive | Thursday , July 15 , 2010
It is official, M.I.A. is now on the receiving end of a mainstream white media backlash because she is an incendiary woman of colour. I have read the mean-spirited comments from critics of M.I.A.'s third album "Maya" that are clearly rooted in racism and misogyny.
In North American culture, most young female pop stars are talentless sluts that have to utilize their sexuality in order to sell records.
Maya Arulpragasam is wonderful because she is a woman of colour that is very outspoken and this upsets the white media.
Women of colour are supposed to be seen and not heard. There is a  sexist belief that females should not be political in pop culture.
M.I.A.'s hit song "Paper Planes" changed her life, the single sold over  three million copies in America. M.I.A.'s album Kala sold over 500,000 copies and was certified gold status in the United States.
M.I.A. recently criticized Lady Gaga she said the New York City pop singer is a "Grace Jones wannabe."
In fact, a few months ago the legendary Grace Jones slammed Lady Gaga she said she doesn't want to work with her because she is "unoriginal."
M.I.A. and Grace Jones make cogent arguments, what is so special about Lady Gaga anyway?
Lady Gaga is just a Madonna and Grace Jones copycat that gets a lot of mainstream praise because she is white, thin, young, and American.
If Lady Gaga wasn't a white American would she be so popular with the white American media?
Meanwhile, M.I.A.  gets slammed for her wonderful album "Maya" and the politically charged video "Born Free" that is an  intelligent work of art.
M.I.A. refuses to be pigeonholed by a racist and sexist media that want to continue to marginalize women of colour.
The fact is, the mainstream white American media don't like outspoken women of colour. Women of colour encounter so many barriers in the pop culture.
Unless a woman of colour is light-skinned and dresses like the  tramps Rihanna or Beyonce Knowles can a young female singer of  woman of colour reach the mainstream white America.
M.I.A. is not a slut, and unlike Rihanna and Beyonce she is a woman of colour that speaks her mind.
Beyonce and Rihanna are brainless puppets, they are controlled by their publicists and managers. I can't believe some women of colour actually look up to Beyonce and Rihanna!
What positive messages or intelligent things do Beyonce or Rihanna say in their interviews anyway? Beyonce Knowles conforms to the white European standard of
beauty with her fake blonde weaves. Would Beyonce be successful in pop culture if she wasn't light-skinned and consistently  wear a blonde weave?
Some people may say that Mary J Blige is a positive image of a woman of colour in the music industry. However, Mary J Blige also conforms to whiteness she has rocked the same damn blonde weave since 1992!
Nobody questions why women of colour have to transform and change their images in order to palatable to the white American mainstream.
M.I.A. refuses to change to be acceptable to white America!
However, M.I.A. never said she wanted to conform and be like the  pop sluts such as Miley Cyrus, Christina Aguilera, Beyonce, Rihanna, Britney Spears, Katy Perry, or Lady Gaga.
M.I.A. does not take her clothes off like Katy Perry did in her new video "California Girls" in order to sell records. M.I.A. is challenging the misogynist perspective of the North American media that a woman has to be overtly sexualized in order to be an artist.
M.I.A. is a woman who puts politics first she believes passionately about the Tamil people in Sri Lanka. Lynn Hirschberg's pathetic NY Times article doesn't make any sense.
It is obvious to the discerning eye that M.I.A. is utilizing her celebrity status to bring media attention to the plight of the Tamil people. The Tamil people are being
discriminated in Sri Lanka and M.I.A. should be commended for speaking out against the genocide against the Tamils in Sri Lanka.
So what if M.I.A.'s fiance is wealthy and she lives in Brentwood California? So because M.I.A. has money means she can't be political? Hirschberg's argument  is ludicrous and insensitive.
Hirschberg interviews one Tamil person in her article "Agitpop" and this man viewpoint represents all Tamils across the world?
The reason the media are attacking M.I.A. is because she there is apathy. . M.I.A. upsets the white American mainstream press because they just want her to rap
and sing. The white North American media don't care about the Tamil people.   The mainstream  white America's racist attitudes against the Tamil people is
typical, racist, but not surprising and abhorrent!
The public and media prefer  female singers and pop stars to be stupid, sexually provocative sluts that don't have an ounce of intelligence.
The difference between M.I.A. and tramps such as Beyonce, Rihanna, Lady Gaga, Britney Spears, and Katy Perry is she downplays her sexuality to push her politics.
M.I.A.'s song XXXO on her third album "Maya" is a perfect example of her giving the music industry and the media the middle finger salute.
One lyric in the song XXXO "you want me to be somebody that I'm really not" is her message to the media that she will not change from being a political activist.
M.I.A. is a breath of fresh air, she is a woman that continues to push her political messages and is an incredible entertainer.
Thousands demonstrate against Argentina plans to legalise same-sex marriage   
Supporters of measure also take to streets to stage rallies in Buenos Aires and other cities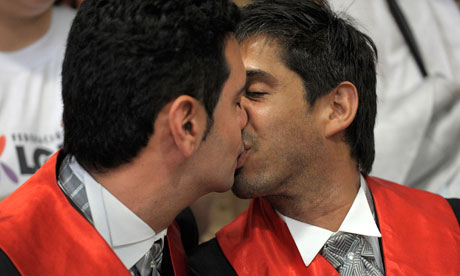 Alejandro Freyre (left) and Jose Maria Di Bello had their marriage blocked in Buenos Aires in December. Photograph: Juan Mabromata/AFP/Getty ImagesThousands of demonstrators today gathered outside
Argentina
's congress in the capital, Buenos Aires, to protest against a proposal to legalise same-sex marriage.
Supporters of the measure also took to the streets in loud rallies in the city and across the country.
The House of Deputies has approved same-sex marriage and sent the legislation to the senate for consideration today.
The legislation – which would open the way to adoptions by same-sex couples – has been challenged by the Roman Catholic church and other religious groups.
The main slogan for the anti-legislation protest was: "Children have a right to a mother and a father".
The Argentine president, Cristina Fernández, has promised not to veto the measure if it reaches her desk.
Argentina remains mainly Catholic, but hostility to homosexuals has waned in the past decade – a trend mirrored across Latin America.
Many countries permit civil unions and some, including Uruguay, allow adoptions.
Mexico City – though not the rest of Mexico – allows gay marriage, but Argentina would be the first country in Latin America to grant gay men and lesbians the same rights as heterosexuals.
Buenos Aires is a gay-friendly capital with bars, restaurants and hotels catering to the pink pound.
Five gay and lesbian couples recently married after local judges authorised the ceremonies, claiming the constitution supported freedom of choice for couples.
Other judges overturned some of those marriages as illegal, leaving the issue in limbo until the senate votes.